Apple Valley Bikes and Boards
Bicycle sales and repair
Apple Valley Bikes and Boards offers exceptional bicycle repair service in the high desert.
From mountain bikes to skateboards, our company provides quality repair parts, skateboards and bicycle care services that will guarantee you total customer satisfaction.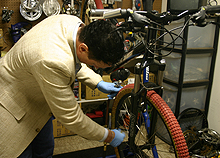 Road bikes
Mountain bikes
BMX bikes
Racing bikes
Custom bike building
Bike accessories
Repairs, all makes and models
Special orders
We also offer professional advice and expertise.
Call Apple Valley Bikes and Boards today at 760-946-2224. If you have any other questions or comments, please contact us at avbmx@aol.com.